Once, again, Epicurious to the rescue.  Recipe here.
I've decided to take pictures of my food and post together with the glossy photos from the recipe (if available) so I can graphically depict my progress as a Crummy Cook (and hopefully force myself to pay more attention to appearance if it's going to actually appear before my vast Internet audience).
For this recipe, Bon Appetit online didn't have a pic, so it's just mine.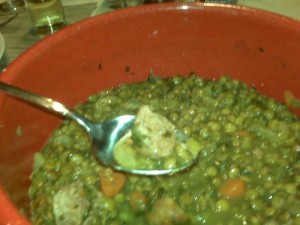 Oddly tasteless, this soup.  I was expecting a big surge of curry flavor.  I didn't salt it much, and I used water (as they said) instead of stock (which I probably should have).  I love beans, but they can get pretty drab if you don't dress them up with something.