Debbie and I are doing something very much like the South Beach diet lately, and I actually went and bought one of the South Beach cookbooks (in Kindle format).
Tonight we had a pork tenderloin, and it seemed close enough to the South Beach recipe below that we made the sauce, the marinade, etc. and just applied it to the tenderloin.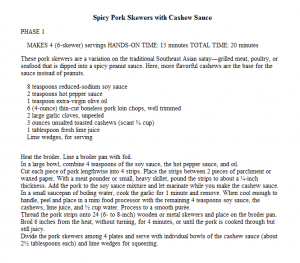 Screen clipping taken: 1/17/2013 1:56 PM
The cashew sauce was actually pretty good, kind of a mock satay.
Or maybe it was just the fruits of diet-induced deprivation.