The Coleslaw Project takes its first steps.
Step 1 was to pick a starting recipe for baseline purposes.  For reasons discussed here I started with a Bobby Flay recipe.
Sadly, I improvised.  I didn't have cabbage, just Napa cabbage.  And I inadvertently put in two tablespoons of dry (Colemans!) mustard instead of one.
Result? Nasal-passage cleansing coleslaw with not quite the right texture.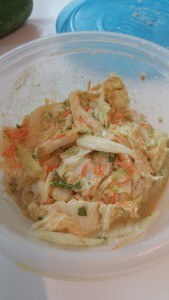 Here's how it looks.  Decent texture, but definitely not cabbage-based coleslaw.
The mayonnaise (home-made) was great.  You could taste it.
So coming up, try the recipe again, this time with the right ingredients.
(Debbie liked it despite the horseradish-esque "notes".)