Debbie was out of town at the end of last week and so I was forced into  cooking action.
It's a paradox, since the original intent (and much of the moral juice) for the Crummycook effort was to spell Debbie at cooking.  Which I do from time to time, but, sadly, I really jump into action when she's out of town.
At least part of the problem is that I have nowhere to hide when she's gone.  I have to cook, or, after I run out of leftovers, I might starve.
Anyhow…
My scheme last week was to do some of Rachael Ray's "30-minutes tops" meals.  And somewhere along the way I got the idea of doing a one-pot meal.  Heck.  I have penchant for one-pot meals.  I sort of like the mixture of flavors, and they're easy as leftovers.  Just measure and nuke.
Unfortunately, Rachael Ray's magazine website was terribly slow when I first went to look for recipes (Tuesday or Wednesday).  I didn't have the sense to look at RachaelRayShow or Food Network, which might have been alternatives.
So my first shot at one-potted-ness was from Epicurious, which yielded, together with an old Ziploc freezer bag full of boneless chicken thighs, this Moroccon Tagine-style dish.
I see "tagine-style" because my impression is that real tagines take hours of slow cooking and maybe even special cookware, no?  This recipe was easy-peasy.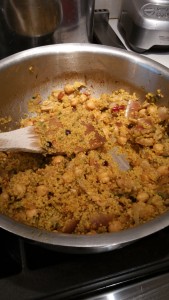 Here's the meal just before serving.  The couscous, the raisins, the garbanzos, the red onion, all visible.  The chicken is a bit back-in-the-mix.
By Friday I actually got onto the Rachael Ray site and did her Savory and Sweet Pork Stew with Ancho Chiles.
I like her stuff, and I like her TV persona (FWIW).  It's simple, but, unlike others, it's not cheesy.   Count me as a fan.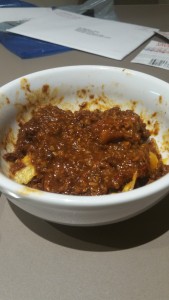 Here's the stew ready to eat.  I didn't have tortillas so I put it on corn tortilla chips.  It was really pretty good.
And when Debbie got home on Saturday night she had some of this and thought it was pretty good too.  So a minor-league "spelling Debbie at cooking" Crummycook function was served.