March 19 is the feast day of St. Joseph, celebrated as a holiday in Italy, and in fact Italian Father's Day. Italians enjoy the day with an abundance of Italian breads and cookies. In some households a "table" laden with these treats is dedicated to the Saint. Sometimes an open house is held and friends and family are invited to partake of the offering. The most famous of the foods served on that day is zeppole (Zeppole di San Giuseppe). The zeppole is a cream puff-like shell usually filled with one of two types of cream, pastry and cannoli, and topped with a bit of sour cherry preserves.
We were recently invited to a belated Saint Patrick's Day dinner, and decided to expand the ethnic fare with a plate of homemade Zeppole, pictured below.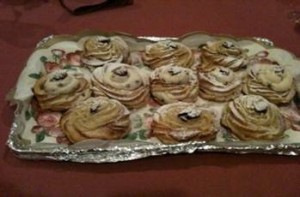 Zeppole di San Giuseppe  were invented in 1840 by Don Pasquale Pintauro. His pasticceria (pastry shop) still stands on Via Toledo in Naples. My wife and I visited the shop on a trip to Naples last fall. It was October, so they were of course not serving zeppole. We were able to enjoy the shop's delicious Sfogliatelle. But I guess that is a topic for another entry on the Crummy Cook.