Very fortunate to be joined this week by my partner and much-more-serious cook Harry, who made a "timpano" for Christmas, as he will explain:
The timpano (Calabrian dialect) or timballo was made famous by the movie Big Night. If you saw the movie, you know the timpano is a feast for the eyes. On Christmas Day 2010 we set out to see if it tastes as good as it looks. Producing a timpano is not hard, but it is labor intensive. Many of the ingredients can be prepared ahead of time, with simple assembly on the day it is to be cooked. The only tricky part is rolling out (what was for our timpano a 30" in diameter round of) pasta dough. Ours was a three person effort with my wife preparing most of the ingredients, and my son and I rolling out the dough and performing final assembly. Think of the timpano as a luxurious, decadent lasagna-pasta dough encasing layers of pasta, tomato sauce, salami, provolone and pecorino cheeses, hard boiled eggs, and meat balls. Then baked in an oven heated to a temperature of about 120°F.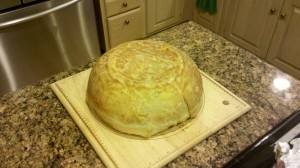 We were not disappointed, the finished product was perfect in appearance and taste.