As Debbie and I were casting around for the proper CrummyCook project yesterday, I put out the idea of making fajitas, since we were near Wagshal's Market and could have picked up some amazing Prime flank steak.
Well, we let it slide and ended up back home, but Debbie still swung Latin American, so we decided on picadillo using ground pork, since we had a pound or so on hand.
Well, naturally, Epicurious obliged with this recipe for Picadillo Tostadas.  I even ran out and got some corn tortillas.
But then I balked at frying them.  Too many calories.  So we broke open a package of taco shells sitting in a cabinet, and used them (belatedly it occurred to me that we had simply accepted fried tortillas from someone else's kitchen, but let's let that go).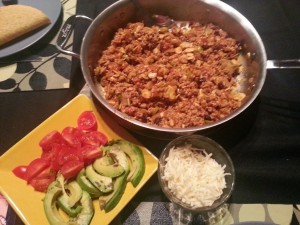 Here's the picadillo and the fixings.   Both of us enjoyed.
Criticism and Self-Cricitcism
After we both had praised the dish, Debbie added some criticism:
"You know, you couldn't really taste the olives."
"I know," I said.  "I didn't put enough of them in."
"We ran out?  I thought we had that whole bag [a bag of pitted green olives we had around from something, vacuum sealed, etc.]."
"We did; we still have some.  But I scaled down the ingredients for fewer portions and then scaled them back up again but didn't scale up the olives."
She laughed.
"Why the hell not?"
"Too much work to slice them."
Well, that's the way it goes.  Laziness bring consequences.