An anonymous guest chef (AGC) asked the Crummy Cook to help him make salmon burgers over the New Years weekend, and they were terrific.
The recipe came from the Frugal Foodie Cookbook whose authors, as it happens, are college friends of Mara's.   AGC had been given their cookbook by Mara and liked this recipe.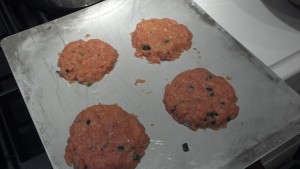 Here is how the patties looked before heat transformed them.  It was not quite grilling weather, so we baked them in a 400 degree oven and put them on buns with guacamole (store-bought, I'm sorry to say).  Results are here: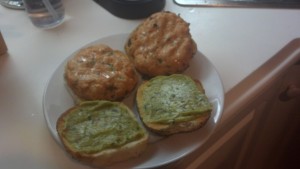 AGC was right.  They are great, and reasonably healthy too.  Thank you, AGC, for your inspiration and a kick in the butt to get back in the kitchen.