None of us is fasting this year, so CrummyCook made dinner last night while Debbie hobnobbed with movers and shakers.
Your basic Black Salt-driven meal, with nice fresh swordfish.  Israeli couscous also spoke to me, as it does frequently, and I listened.
I was sick of the usual oil-and-acid marinade + soy-derived flavors.  Fortunately Epicurious came to the rescue with Swordfish with Seaweed Salsa Verde.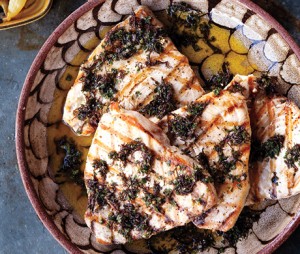 (Here's their version of it.)
I'm a fan of seaweed, although Debbie is not.  The peppy copy for the recipe inspired me to believe the other flavors in the salsa might cover up the seaweed taste:
Chef Kenney says that combining the herbs for the salsa verde with seaweed really gives this dish "that fresh-from- the-sea flavor."
Trusting in Chef Kenney, I forged ahead.
I accompanied it with couscous made with dried fruits, cinnamon, and ginger.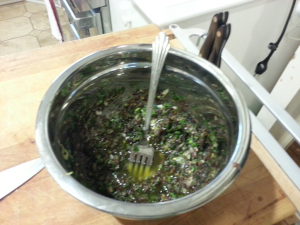 There's a Crummy photo of the salsa.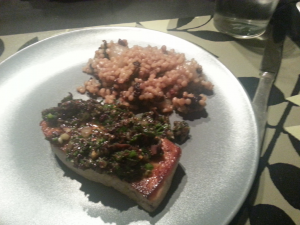 And here's how the swordfish looked with the couscous.
It worked out.  Debbie loved it, and was not put off by the seaweed (although she gave a telltale wince when I told her what it was before she tried it.)