The origins of this project?  I've had a yen for a while to "braise" something.  There's of course a bunch of foodie propaganda in the magazines and online about braising in the winter, and the dishes look really good.  So I've been getting more or more exciting about braising.
(On, one more thing: the foods you normally braise – tough fatty red meat – kind of grosses me out, even if braised.  I was mildly disposed to avoid those kinds of braises, although Debbie has done a pretty good job time and again with braised boneless short ribs.)
So, the usual drill: epicurious with search terms taken from my fridge, so "braising" and "root vegetables".  What turned up was Chicken and Vegetables Braised in Peanut Sauce, with the additional lure (for me) that it's an African dish or a dish of African origins, so reminds me of Mara.

Here's how it looks in the Gourmet magazine presentation.
Well, I've also had a yen – also generated by foodie reading – to learn how to cut up a whole chicken, so, rather than getting 5 lbs of chicken parts I got a 5-lb chicken and started to cut it up.
Not as easy as I thought: a raw chicken is slippery and floppy.  It's hard to find the joints.  I did get it, though.  Four breast pieces (two breast halves cut in two), two thighs, two drumsticks.  I neglected to cut off the wings, which turned out to be a big mistake since they interfered with browning, cooking, and eating.  Ah well: next time I'll know better.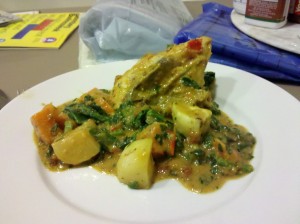 Here's my version (I used brown rice (not shown) instead of white).  Not too shabby-looking compared to the prototype, although my chicken is not as well browned (due to size of pieces and presence of wings).
Not all that tasty, though.  It basically tastes like a very mild peanut-butter sauce, which is kind of eh.
I'll try it another time, I think.  I'll also try other braises.  Onward and upward.